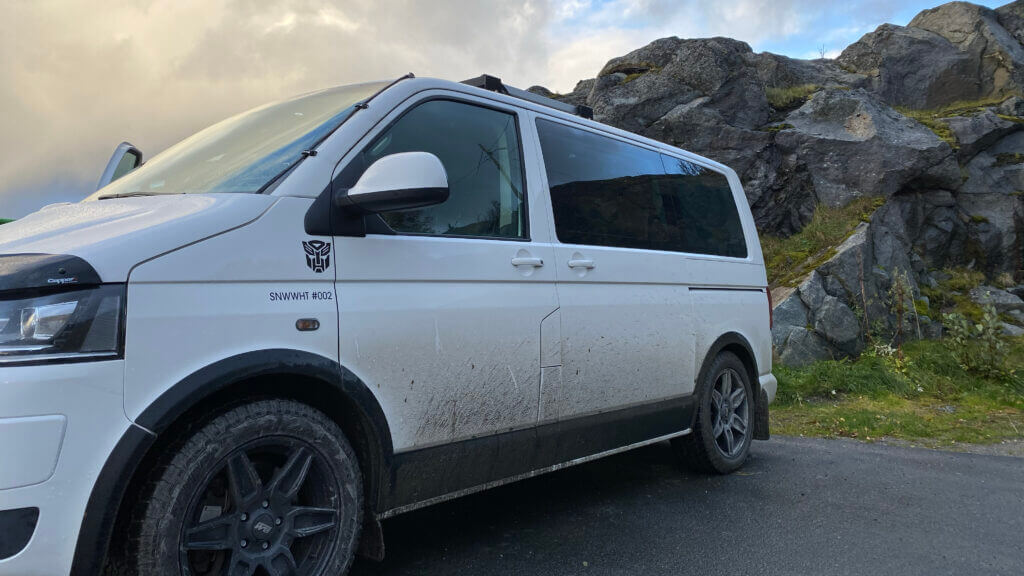 As you can read in my previous posts I built a camper van called "Rödluvan" (Little red riding hood) based on a VW t4 transporter 2004. Beside from being old, smelly and not very fast there was a big downside to Rödluvan and that was that it was only capable of taking two passengers, or 1.5 passengers to be fair. Further more I didn't really have the storage for one additional car so I came up with the brilliant idea to sell my daily driver and combine my camper van dreams with a daily car.
Enter the Multivan Snow White, a 2014 VW t5.1 with 4motion!
I bought this car in may 2020 and started to modify it to my needs immediately. But mid way in the conversion I found out that the engine needed replacement (yes the dreaded 2.0 biTDI EGR-cooler issue, google it…). So after months of phone calls to the seller and my insurance company the car was scheduled for an engine and turbo replacement.
Everything worked out well and I took it to my yearly hiking and photography trip in Norway on September 2020. Everything worked out great, the car is a dream to both drive and live in and it's really nice to sleep on a "real" bed instead of in a tent every night.
Based on this trip I found some minor tweaks to fix though, nothing critical just stuff like moving the refrigerator to the trunk so that you won't hear the compressor all night long and fitting a solar panel that sits flush on the roof so it doesn't catch any winds when it's stormy outside.
The only actual downside with a Multivan vs. a California is in my opinion that you have less sleeping space. With the pop-top-roof on the California you could have up to four persons sleeping in the car. But my experience is that two adults making themselves ready for bed in this car is crowded enough, besides sleeping in windy Lofoten in thepopup-roof might be to similar to the tenting experience anyways.
I use the multivan as a daily driver and it's also a great family car for long drives with the kids and for just about any activity you could think of. Just load the ski's, bicycles, kick bikes or whatever and off you go. I even loaded a new washer in the trunk with the kids still in the backseat and plenty of room to spare.
I'll try to document the car itself with more photos on the next trip, but for now I couldn't be happier with my second home on the roads.