My current Apple setup is based on the superb workhorse MacBook Air m1 with 16gb ram for work and travels (backups, simple editing etc.) and my aging Mac mini intel I5 with 32 gb RAM for editing and library management at home. The Mac mini pretty much chewed up everything I threw at it until
I switched to the Fuji GFX system. Now importing a 32gb memory card and getting the files indexed, sorting and deleting is a real hassle with the fans spinning at max and some serious lagging.
Like many others I was hoping for an update to the Mini at the Apple 2022 spring event but instead they threw a curve ball and introduced the Mac Studio which was cool and all but left me in a dilemma:

"Should I upgrade to the Mac mini m1 or the new Mac Studio base model"

I generally think that buying the newest possible gear is better but the price jump compared to the Studio is no small leap and I do realise that the performance of even the base model of the Studio is a bit overkill for me since I do photography and not video, but hey I might just give video a chance in the future.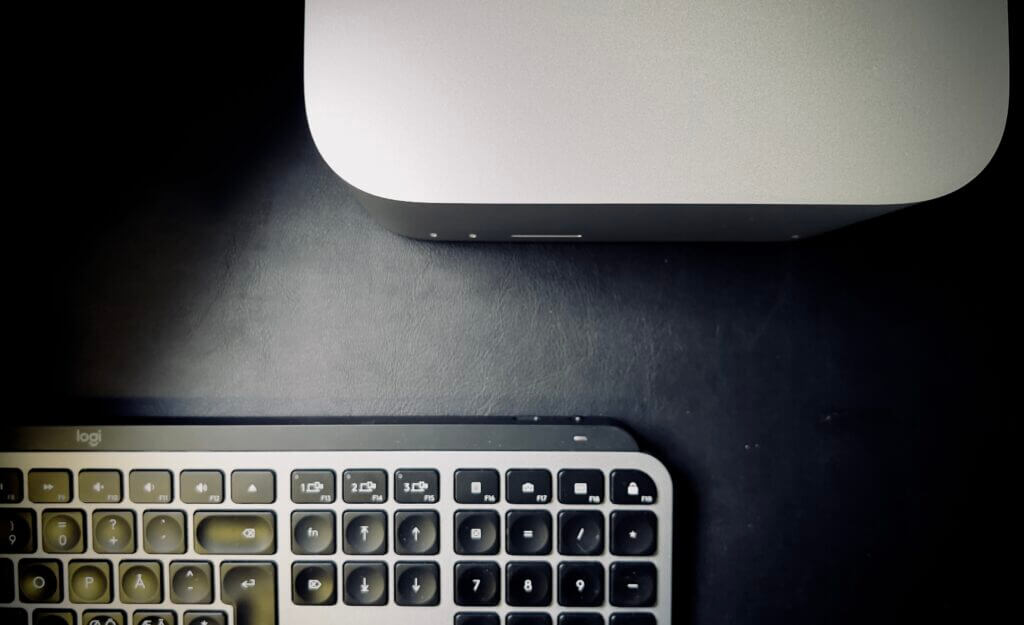 What finally sold me on the Mac Studio is these three things:
Future proofing (nothing is future proof though, but lets call it "-ish")
Ports/expandability (The mini m1 is lacking on the port side)
Price (What?! Isn't the mini cheaper? Yes but stay with me and read on…)

Future proofing
Everything gets old eventually so basically future proofing is non-existing thing but why start with a modell who's CPU or SOC was released in 2020 and who's RAM is maxed out at 16GB. Yes the m1 handles RAM differently and the disk speeds (for swap) is almost as fast as traditional RAM but it's always nicer to have to much RAM then to little…
Ports / expandability
My current intel Mac mini has 4 TB3 ports, 1 HDMI and 2 USB-3 ports and all of them are occupied. The Mac mini m1 has 2 TB4 ports, 2 USB-3 and 1 HDMI. Yes you can remedy the lack of ports with hubs and adapters, but besides from being an ugly solution those also cost you money.
Price
So how did Apple choose it's price levels for the new Mac Studio? Very, very, very smart one could argue. The base model Mac Studio starts at $1.999 and that gives you 4 TB4 ports, 2 USB3, 1 HDMI and 10GB ethernet on the back and also 2 additional USB-C and an SD-card reader on the front. (On the Ultra version the front ports are also TB4). The base model gives you a 10 core m1 MAX CPU with 24 core graphics with 512GB hard drive and 32GB RAM.
A similar Mac mini m1 (from 2020) with an 8 core m1 CPU with 8 core graphics, 512GB hard drive and
16 GB RAM (with 10GB ethernet) will cost you $1.199. Sure that's still $800 cheaper then the base model for the studio but you get twice the amount of RAM in the studio. Also, given the lack of ports on the Mac mini I would probably buy something like the Belkin TB4 dock which sets you back another $500.
Conclusion
Given the example above and considering my personal needs (and some gear acqusition syndrome) the difference between upgrading my home setup with a new Mac mini or a new base model Mac Studio comes down to just $300. Those $300 gives me twice the ram (32gb) and a newer model which will last me many years to come. As an added bonus I get a small desktop that can handle video without breaking a sweat and the SD-card reader will be so nice to have instead of fiddling about with adapters.
The only downside is that I had to re-arrange my desktop since my current intel mini is mounted behind my display, which I guess is still possible with the Studio but then I'd loose access to the front ports and SD-card reader. Now if they would just make the Mac Studio in space gray 🙂